NARI-Certified Kitchen Remodeling Contractor Serving St. Petersburg & Other Communities in Pinellas County, Florida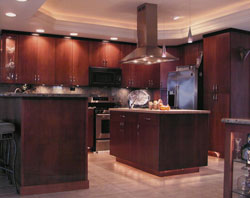 Mueller Remodeling, Inc. is a professional kitchen remodeling contractor serving St. Petersburg and many other communities in Pinellas County. Whether your kitchen needs just a couple of minor updates or a major makeover, Mueller Remodeling is a local company you can rely on to provide hands-on kitchen remodeling services and exceptional customer service every step of the way. We've earned an A+ rating from the Better Business Bureau, multiple Contractor of the Year (CotY) Awards, and a track record of providing exemplary kitchen remodeling services in this area that spans several decades.

Plus, father and son David and Scott Mueller are each officially certified by the National Association of the Remodeling Industry (NARI). To become NARI certified remodeling contractor, an individual must work full-time for at least five years in the field of home remodeling, pass a specialized written exam, and adhere to NARI's Standards of Practice and Code of Ethics.

Depending the size of your budget, the kitchen remodeling experts at Mueller can update your:
Cabinets
Countertop
Sink
Appliances
Lighting
Windows
Ventilation
Flooring
As your kitchen remodeling contractor, we can even completely reconfigure the space by knocking out a wall, changing the size and/or location of a doorway, or raising the ceiling.

To learn more, contact Mueller Remodeling, Inc. today. For more than 30 years, we have professionally remodeled kitchens in St. Petersburg and elsewhere in Pinellas County. You can also turn to Mueller if you require the services of a bathrooom remodeling contractor, a handyman, or a home addition builder.