Trust Us With Your Home Office Remodel in Seminole, FL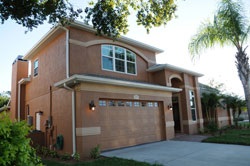 Although more and more people are working from home these days, not all homes are properly equipped to support working remotely. If this describes your situation, don't simply ignore the problem and let your productivity suffer as a result. Instead, partner with the home office remodel specialists at Mueller Remodeling. We offer custom home office remodeling services to residents of Seminole, Florida.
We'll Tailor Your Work Environment to Your Unique Needs
When planning your home office remodel with you, Mueller Remodeling will go deeper than simply asking what type of layout and colors you want your space to have. Our design/build process will start at the most fundamental level—understanding what you would like your workday to look like—and we'll draw upon that insight to make your vision a reality.

If you don't want to give up any of your existing space to create a home office, we can expand the living area of your home with a room addition. Or we can find creative ways to convert an existing space, such as a bedroom, dining room, or closet, into a home office.

Regardless of where you want to have your home office set up, we'll make sure the space is properly designed to function the way you need it to. In addition to creating a space that can fit all of your furniture and devices, we'll pay close attention to design aspects, such as ensuring adequate lighting, that can be easily overlooked but still play a big part in creating a pleasant work environment.
Your Ideal Home Office Is a Phone Call Away
Why continue using an uncomfortable work-from-home setup when Mueller Remodeling can create the ideal home office for your needs? Contact us today to begin planning your home office remodel in Seminole, FL.