Home Office Remodeling Company Serving St. Petersburg, FL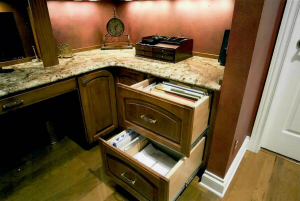 Each year, the number of people working remotely continues to rise. However, many homes are not suited to support working in this fashion. This is where Mueller Remodeling comes in. We're a home office remodeling contractor that has extensive experience creating dynamic home work environments for the customers we serve in St. Petersburg, Florida.
What Type of Home Office Is Best for You?
Factors such as the configuration of your home and the type of work you perform will determine what type of home office makes the most sense for your needs. If you want to gain a full-size home office without giving up any existing space in your home, we can build the space from scratch as part of a room addition that will blend perfectly with your home inside and out.
Or, our home office remodeling team can convert an existing space such as a dining room, bedroom, patio, or laundry room into a home office. Do you simply need a place to perform quick, non-work-related tasks such as paying bills? In this case, a pocket office may be the ideal solution. This setup would provide you with a work surface and storage cabinets near a living space such as your kitchen or living room.
Once we've determined where your home office will be located, we'll get to work planning how we can improve the space so that it will help keep you comfortable and productive throughout the workday. We can install noise-reducing walls and doors to prevent auditory distractions. New windows and lighting will help ensure that you have enough light in the space. Cabinets and shelves will enable you to keep all of your important files and supplies within arm's reach. Furthermore, we'll pay special attention to giving the space a color scheme that you'll find invigorating.
Create Your Ideal Home Work Environment
If you work remotely, it's crucial to have a home work environment that enables you to perform at your peak potential. Mueller Remodeling can create this kind of dynamic workspace for you. Contact us today to learn more about the design/build home office remodeling services we offer in St. Petersburg, FL.