Kitchen Remodeling Contractors Serving St. Petersburg & Other Communities Throughout Pinellas County, FL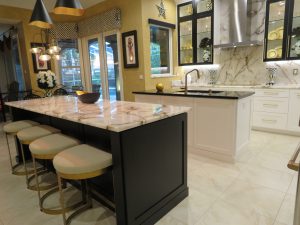 Kitchen remodeling contractors are a special breed. Not only must they be talented builders, but they also must possess an eye for what's beautiful as well as functional. At Mueller Remodeling, we remodel kitchens throughout the St. Petersburg, Florida, area utilizing an approach that takes both into account. From custom kitchen cabinets to kitchen flooring, our remodeling services can only be described as comprehensive. We can take any plain, ordinary kitchen and transform it into something entirely different—a space that mirrors your personal tastes and lifestyle.
As a design/build home contractor, we offer a streamlined approach to kitchen remodeling that fosters more creativity, ensures faster project-delivery timelines, and promises kitchens that are aesthetically far beyond what most other contractors can provide. A kitchen remodel by Mueller Remodeling might include new:
Cabinets
Considering that your kitchen cabinets will serve as a primary visual focal point and your main source of storage space, it's imperative that you receive the right cabinets for your needs. We'll help you select cabinets that have the ideal size, color, and finish, and equip them with optional features such as pull-out drawers, slow-close hinges, and under-cabinet lighting as desired.
Countertops
Our team can install any type of countertops you want, whether you want ones made of quartz, granite, laminate, marble, or any other material. Furthermore, for your kitchen remodeling project, we can increase your available countertop space by installing an expansive kitchen island.
Backsplashes
Installing a custom mosaic backsplash is one of the best ways to make your kitchen stand out. Mueller Remodeling has the creativity, dedication, and skill to install a backsplash you'll absolutely love.
Flooring
Tile, wood, laminate—we have in-depth experience installing it all. One type of flooring that we think is especially great to consider for kitchen remodeling projects is vinyl planks that look just like real wood but do a far better job of withstanding damage caused by water and pets.
Walls
Does your kitchen feel cramped? We can change the configuration of your kitchen's walls to open up your home and create a roomier living space.
Windows
Windows serve the crucial role of letting natural light enter your kitchen, and as a homeowner living in the St. Petersburg, FL, area, you need windows that will reliably insulate your home from scorching outdoor temperatures. We can install virtually any type of energy-efficient replacement windows you want, including double-hung windows, picture windows, casement windows, and garden windows.
Plumbing
While the cosmetic aspects of your kitchen remodel certainly are important, it's equally important to make sure that all of your plumbing is installed correctly. Drawing upon decades of experience in kitchen remodeling, Mueller Remodeling performs plumbing work with precision and care, closely adhering to industry-recognized best practices.
Lights
Windows, skylights, hanging lights, track lighting, and under-cabinet lighting are just some of the solutions we can provide to ensure you have optimal lighting in your kitchen.
What to Expect From Our Kitchen Renovation Services
Mueller Remodeling has decades of experience upgrading all of the features described above. Since 1990, we have solidified our reputation as kitchen remodelers that are not only friendly and responsive but also ones who deliver superior results. For your new kitchen, we'll even help you hand-select the materials that will be used, ensuring that you have an in-depth understanding of your options and can feel entirely confident you're making the best possible choices for your home.
To learn more about our kitchen remodeling services, contact Mueller Remodeling today. We serve homeowners in St. Petersburg, Seminole, Clearwater, Madeira Beach, Largo, Indian Rocks Beach, Tierra Verde, Belleair, Belleair Beach, and other communities throughout Pinellas County. Also, be sure to check out our kitchen remodeling gallery.