Bathroom Remodeling Contractor Serving St. Petersburg & Communities Throughout Pinellas County, FL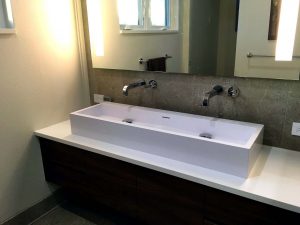 There are many bathroom remodeling companies offering services in St. Petersburg and throughout Pinellas County, Florida, but at Mueller Remodeling, we believe that our creativity, skill, and experience truly set us apart. Since 1990, we have designed and built custom bathrooms for discerning homeowners who put a premium on quality and originality. Our expert bathroom remodelers don't take any shortcuts. Instead, they work diligently to give each of our clients exactly what they want without skipping over a single detail. The result is a newly remodeled bathroom that incorporates the client's unique tastes, one that is guaranteed to brighten up their home and make living there more enjoyable.
Design Options for Your Bathroom Renovation
At Mueller Remodeling, we personally help each client hand-pick the materials that will be used, ensuring a new bathroom that is completely unique. Our NARI-certified bathroom remodeling specialists can install:
Showers
Do you want your shower to have custom tile? A rainfall showerhead? Built-in bench seating? Mueller Remodeling has in-depth experience installing all of these features and more. For the ultimate in style and accessibility, consider having a curbless shower installed as part of your bathroom remodel. Because they don't have a curb or door, these showers look incredibly sleek and make cleaning far easier.
Bathtubs
If you like taking soaking baths, we can install a bathtub in your space. You can choose between clawfoot tubs that have incredible visual appeal, whirlpool tubs that feature luxurious massaging jets, walk-in tubs that provide easy access, or any other type of tub you want.
Flooring
Bathroom flooring should look appealing, allow for easy cleaning, and reliably resist damage. We can install any type of flooring that you have in mind. One excellent option to consider is vinyl plank flooring. This popular flooring product emulates the beauty of hardwood flooring, but at a more affordable price and with greater resistance to damage caused by water and pets.
Walls
Is your bathroom smaller than you wish it was? Our bathroom remodeling specialists have the carpentry, electrical, and plumbing expertise needed to change the configuration of your bathroom's walls to create the spacious retreat that you desire.
Vanities
Your vanity is not only a major visual element of your bathroom, it could also be your main source of storage there. If you have enough space for it, consider installing a double vanity that will give both you and your significant other a place to get ready. To provide you with additional storage space, we can also install a new closet or floating shelves.
Lighting
Proper lighting is crucial to bathroom design. We can install windows to let in natural light, as well as equip your space with elegant artificial lighting such as wall sconces, ceiling lights, and LED strip lighting. Another excellent way to ensure that you have enough task lighting in your bathroom while maintaining a clean, sleek aesthetic is to have a lighted mirror installed. Made of corrosion-resistant glass with embedded LED lighting, these mirrors will illuminate your space with abundant, natural-looking light.
Are you ready to begin planning your dream bathroom? Contact the bathroom remodeling experts at Mueller Remodeling today. We'll schedule a free consultation to discuss your project and explain in greater detail how we can bring your vision for your home to life. We proudly offer our services in St. Petersburg, Seminole, Largo, Clearwater, Madeira Beach, Treasure Island, and elsewhere throughout Pinellas County, FL.