Condominium Remodeling Services for Residents of St. Petersburg, FL & Surrounding Cities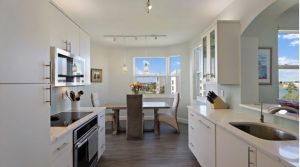 There are many condominiums in the St. Petersburg, Florida, area, that were built a long time ago and could benefit from a makeover. If your condominium falls into this category, look to the trusted professionals at Mueller Remodeling.
We've upgraded condominiums for countless area residents since our founding in 1990. Beyond simply having the skills and creativity needed to plan and execute your ideal condominium remodeling project, we have a great deal of experience working within the rules set forth by condominium boards. This means you can rely on our team to carry out your project in a smooth manner that minimizes any disruption to you and your neighbors.
Upgrades to Consider for Your Condo Remodel
As a full-service condominium remodeling company with decades of experience, we can improve your home virtually any way imaginable. Whether this means making your kitchen a more enjoyable space to prepare meals in, transforming your bathroom so that it looks more stylish and is easier to clean, converting an existing space into a home office, or completing any other upgrades you have in mind, we can turn your condominium into a living space that helps you live the life you want.
Get Started
To begin planning your condominium remodeling project, contact Mueller Remodeling today and schedule a free consultation. We proudly serve St. Petersburg, FL, and all surrounding communities in Pinellas County.