Kitchen Remodeling Contractor Serving Clearwater & Other Locations in Pinellas County, Florida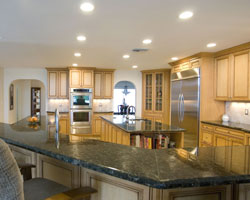 If you live in Clearwater and need to hire a kitchen remodeling contractor now in or in the near future, look no further than Mueller Remodeling, Inc. We are a design/build home remodeling firm that has been remodeling kitchens in Clearwater and other locations in Pinellas County for close to four decades. With our help, you can remodel the kitchen in your Clearwater home with total confidence. Not only are we a kitchen remodeling contractor with an A+ rating from the Better Business Bureau, we have also won the NARI Contractor of the Year (CotY) Award on multiple occasions. Moreover, we have a professional kitchen design consultant on our staff who can assist you in selecting the best products and materials for your project. This can include flooring, kitchen countertop, new cabinets, new appliances, light fixtures, wall paint, windows, and more.

Hiring Mueller Remodeling, Inc. to remodel your kitchen will mean working with a contractor that:
Offers a one-year labor guarantee on all kitchen remodeling projects
Always has a manager on the jobsite
Is service-oriented and willing to go the extra mile to ensure that you are satisfied with the work that is being done
Can help you get the most out of your kitchen remodeling budget
As a full-service home remodeler, we also offer bathroom remodeling, outdoor patio remodeling, home addition construction, outdoor kitchen construction, sunroom construction, even routine handyman repairs.

Contact Mueller Remodeling, Inc. today if you want to speak to a reputable kitchen remodeling contractor in Clearwater about a project.