Design/Build Kitchen Remodeling Contractor Serving Seminole, FL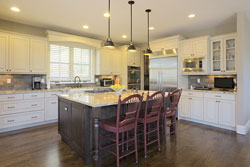 Does the design of your kitchen prevent you from using the space the way that you wish you could? If so, this isn't very surprising. Traditional homebuilders tend to construct houses in a generic, "cookie cutter" fashion that pays little attention to the unique preferences of the individual homebuyer.

However, Mueller Remodeling can fix this problem for you. We're a kitchen remodeling contractor that specializes in transforming conventional homes into fully customized living spaces that help our customers in Seminole, Florida, live happier, healthier, and more productive lives.
Work With a Kitchen Remodeler That Puts Your Best Interests First
To create your dream kitchen, we first need to understand your living style. Do you spend lots of time in your kitchen preparing complex, new meals? Is your home where family and friends congregate on special occasions? How much storage space do you require for food, cookware, and appliances? Asking targeted questions such as these will allow us to then recommend relevant ideas for your kitchen re-design.

As an award-winning kitchen remodeling contractor with decades of experience serving Seminole, FL, we can incorporate virtually any design features you want, including a:
Selection of high-performance, stainless steel appliances that make preparing meals easier and more enjoyable than ever
Large kitchen island and/or breakfast nook that provides ample space for your whole family to gather for casual dining
Walk-in pantry large enough for you to buy food in bulk as desired and still have room to store it all in an orderly fashion
Beverage area between your kitchen and living room where people can socialize and enjoy beer, wine, or other drinks
Are you ready to explore many exciting ways to make your kitchen truly yours? Contact Mueller Remodeling today. We believe that once you do you'll quickly understand why we're regarded as the premier design/build kitchen remodeling contractor serving Seminole, FL.