David W. Mueller Named Master Remodeler by NARI
NARI WELCOMES NEW MASTER CERTIFIED KITCHEN AND BATH REMODELER
IN THE TAMPA BAY AREA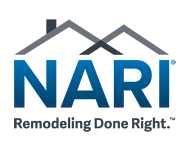 Seminole, Florida – Mueller Remodeling Inc. is pleased to announce that David W. Mueller has recently achieved the prestigious Master Certified Remodeler and Master Kitchen and Bath Remodeler status.
A Master Certified Remodeler (MCR) and Master Certified Kitchen and Bath Remodeler (MCKBR) designation proves the remodeling contractor's superior knowledge, dedication to the industry, and community involvement.
NARI's MCR and MCKBR program measures skill and expertise valued not only by other professional remodelers, but by consumers as well. Highly respected by those who have achieved the designation, the MCR and MCKBR program identifies professional remodelers who have undergone comprehensive review and testing in areas of business management, ethical conduct, and technical skills. The NARI certification program assesses the knowledge and skills of the remodeler in several remodeling task areas including business methods and practices, building codes and construction law, planning, and building site layout, and all trades skills required in remodeling your home and/or your kitchen and bath. Attaining this certification requires the candidate to have attained the Certified Remodeler (CR) and Certified Kitchen and Bath Remodeler (CKBR) designations and maintained them current for a minimum of 10 years. The candidate must also have achieved at least one additional NARI Certification, and have served in a NARI chapter or a community leadership position. In addition, Master Certified Remodelers and Master Certified Kitchen and Bath Remodelers are bound to abide by the NARI Code of Ethics and the NARI Standards of Practice.
David W. Mueller has been a member of NARI NATIONAL and NARI Tampa Bay since 1993 and has served the Tampa Bay Chapter for over 21 years on its Board of Directors. He has served as Chapter President twice.
In Addition, David W. Mueller has earned NARI Tampa Bay's "Remodeler of The Year" award twice and has been inducted in the NARI Tampa Bay "Hall of Fame". Mueller Remodeling's work has been acknowledged with a National CONTRACTOR OF THE YEAR (CotY) award, four Regional CotY awards and over 50 first place, local CotY awards.
About NARI: The National Association of the Remodeling Industry (NARI) is the premier association of remodeling professionals and industry experts dedicated to advancing the professionalism of the remodeling industry and educating the public on the benefits of using a qualified professional. NARI has 6,000 member contractors, suppliers and service providers and 47 chapters across the U.S. NARI members adhere to a Code of Ethics and together as an industry promote "Remodeling Done Right™. Learn more about NARI and how to find a qualified professional remodeler at NARI.org.