Is a Kitchen Remodel Worth It?
Are you considering a kitchen remodel, but don't know if it is a smart investment? This is something homeowners tend to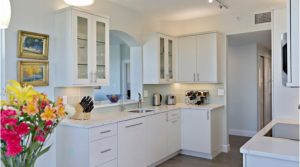 grapple with. You want to be sure you are spending your money wisely and that a kitchen remodel will be worth the cost. But how can you ensure this is the right choice to make?
Things to Keep in Mind
First, weigh your options. Why do you want to start on a kitchen remodel? Is your kitchen a space you tend to utilize but find that its layout is cramped, appliances are outdated, and storage is simply nonexistent? No homeowner wants to contend with the struggle of having an inadequate kitchen. Therefore, when it comes down to it, a kitchen remodel may be worth it simply because it will address all of your concerns and help bring your dream kitchen to fruition.
The kitchen is the heart of the home, right? So, why wouldn't you want to take full advantage of this space and make it the optimal spot for entertaining, spending time with family, or unleashing your culinary creativity? The freedom a kitchen remodel allows, within itself, is arguably priceless.
But not all homeowners want to just consider the possibilities of what a kitchen remodel allows. Understandably, they want to think big picture. So, if you are thinking about selling your home down the line, consider the benefits of a kitchen remodel. By upgrading this space, not only are you making your home more appealing to potential buyers, as everyone wants a renovated kitchen, but you are also increasing the value of your residence.
Time to Get Started
If investing in a kitchen remodel sounds like the right choice for you, contact the professionals at Mueller Remodeling today. Our skilled and experienced team has the know-how to expertly outfit your Pinellas County residence with a kitchen that will not only meet all of your wants and needs but also serve as a selling point for when you choose to put your home on the market.